Guide to Buying High-End Audio Equipment
High-Quality Sound for Your Home with Less Stress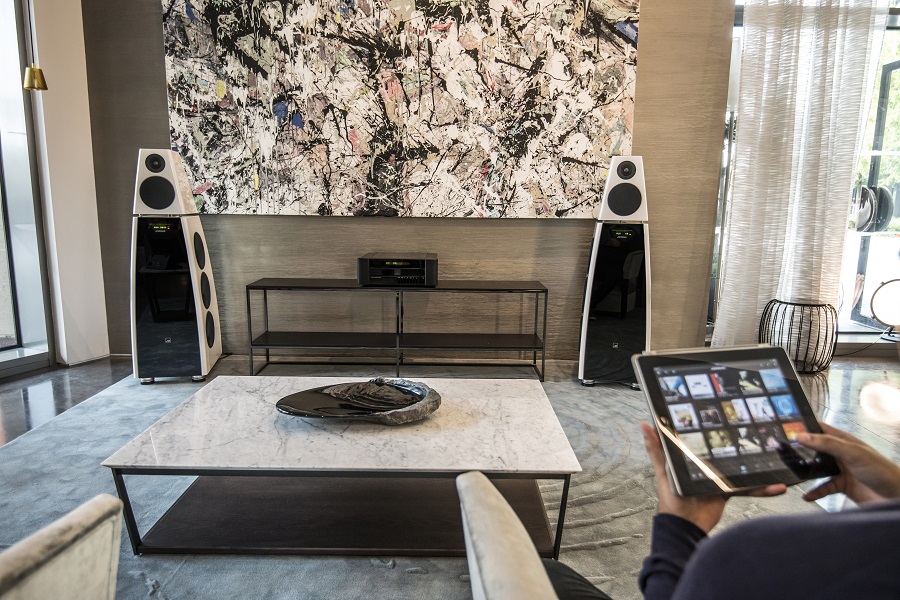 Want to bring high-end audio to your Charlotte, NC home, but aren't quite sure about the buying and installing process?
You can let our trusted team of integrators take care of the installation elements – but first, there are a few decisions for you to make. Not to worry – we've laid out all of the factors to consider and which brands we recommend to make the process seamless.
Keep reading below to learn more and learn how to bring a high-performance sound system into your living space.
SEE ALSO: DO YOU KNOW THE POSSIBILITIES OF QUALITY AUDIO EQUIPMENT?
How to Know It's High-End Audio
You've heard about the potential of high-end audio for transforming your space for the ultimate listening and viewing experience – but what makes it truly stand out above standard audio systems?
Any audiophile knows that audio quality isn't truly defined as good and bad, or low and high-quality. There are multiple speakers and systems that perform differently under different circumstances, so it is important to explore all your options.
So, when you're looking for high-end audio that suits you and your family listening needs you need to consider a few features and characteristics that make high-performance audio different from the basic audio video systems.
What makes up high-end audio:
Quality material: the material of a speaker has a real impact on the sound quality and performance. Materials that flex or shift can cause audio distortion and issues down the line. The real high-end audio speakers use special materials to guarantee that this problem is reduced.
It isn't mass produced: when any type of product is mass produced, the quality is lowered significantly. High-end speakers need consistent design and build that work together to produce that flawless audio. Any defects or errors of any size can lessen that quality.
Incomparable sound quality: you want your system to fit your listening habits. You can then determine if they are the high-end speakers that will produce that desired and unparalleled audio throughout your home. You'll be able to tell the difference from the first few notes of music or audio.
Brands We Recommend
Different audio companies and brands bring different equipment and products to the table – whether they're for dedicated home theaters, listening rooms, multi-purpose media rooms, or for systems throughout your living space.
We recommend reliable and trusted brands such as Monitor Audio, Triad, and Meridian Audio. And of course, like with any products, a good system depends on the installation –and a trusted smart integrator will make sure the process is done right the first time. Even purchasing the best high-end speakers won't fix a poor installation.
Remember to Test Speakers First
If you're close to choosing a brand and speaker system you like, make sure you give them a listen. This will ultimately help you determine if they're the ones for you. It helps you to compare to other products, and whether or not this speaker will work well in your home.
Want to learn even more about buying and installing high-end audio speakers and systems into your space? Give us a call or fill out our online contact form to schedule a no-obligation consultation with our team. We'd love to hear from you!