How to Easily Hide Your Audiovisual Technology
The Integrated Home is Your Local Charlotte Expert for Designer Whole House Audio & Video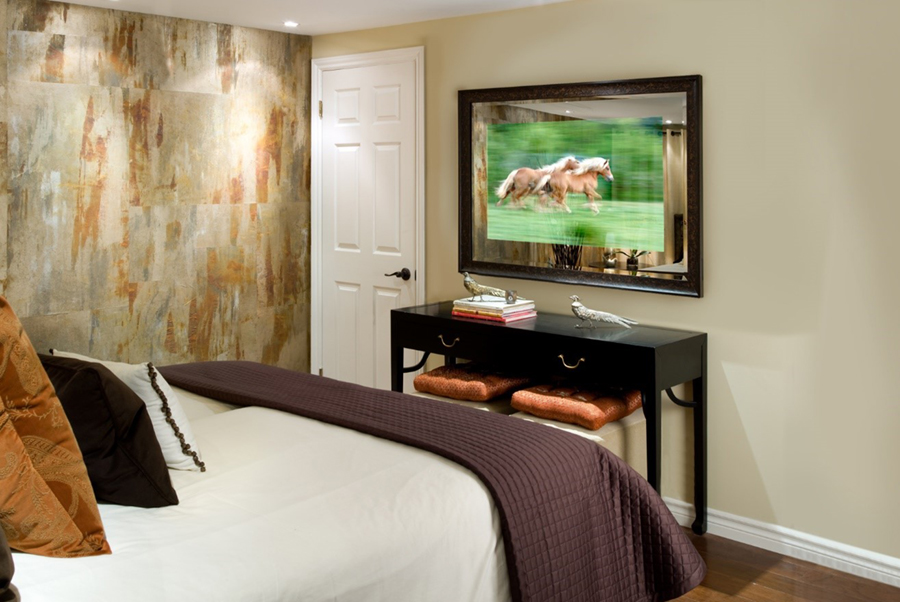 Interior design is an art, and therefore is highly personal. Everyone has different tastes when it comes to style, and the same goes for technology. Some people love showing it off while others would like to hide it. If you are into hiding your whole house audio and video products, then you have come to the right place.
The Integrated Home specializes in blending technology with your Charlotte home décor. In this blog edition, we'll give you some ideas and show you some fun possibilities when it comes to hidden technology.
Hide TVs in Any Space for Impressive Surprises
Séura is a master at creating TVs that magically appear in a variety of forms. Their Vanishing TV Mirror can be placed anywhere in the house, even in the shower. You can wake up in the morning, walk into your bathroom to get ready and watch the news in the mirror while you brush your teeth. Séura also has a line of outdoor TVs that are weatherproof and built to withstand nature's elements.
If you find that a TV mirror isn't your style, TVs can also be placed behind pieces of art or conceal them inside ceilings and walls. The Integrated Home uses motors to move screens in and out of spaces. With just the touch of a button, you can bring out the TV and get ready for an evening movie. Hidden technology is a great option if you want to add to a room, but don't want the technology to stand out.
With our integration professionals, you can distribute different videos to every screen in the house and not disrupt your interior design in the process.
Conceal Audio Equipment for Enhanced Listening Experiences
Monitor Audio provides designer lines of speakers that can match any décor. They have SoundFrame speakers that have been crafted to look like framed art by outlining speakers with high gloss frames and laying an image over the grille. You could provide a family photo, or choose a picture from Monitor Audio's library.
Audio performance isn't compromised when you make your tech invisible. Monitor Audio products can be installed in a variety of ways to generate brilliant multi-channel music and deliver a listening experience that makes you feel like you're on a concert stage.
By hiding your audio products in the whole house, you'll be creating a surround sound system that travels with you as you work your way from the living room to the patio. Wherever you go, the music follows.
The Integrated Home can also connect multiple music sources to the system so that you have plenty of options for entertainment. You could turn on a party playlist for the entire house from an MP3 library, or each individual could pick what they want to listen to in their own space—whether it's SiriusXM Radio, Spotify, Pandora and more. When it comes to sound, the less you see the more you can focus on listening.
Let us enhance your whole home with audio and video integration technology and invisible designs. Call The Integrated Home at (704) 412-4040 or fill out the contact form on our website. We'd love to give your family, friends, and visitors a nice surprise on their next visit.