Surround Sound Challenges
How to Overcome Limitations and Enjoy 3D Audio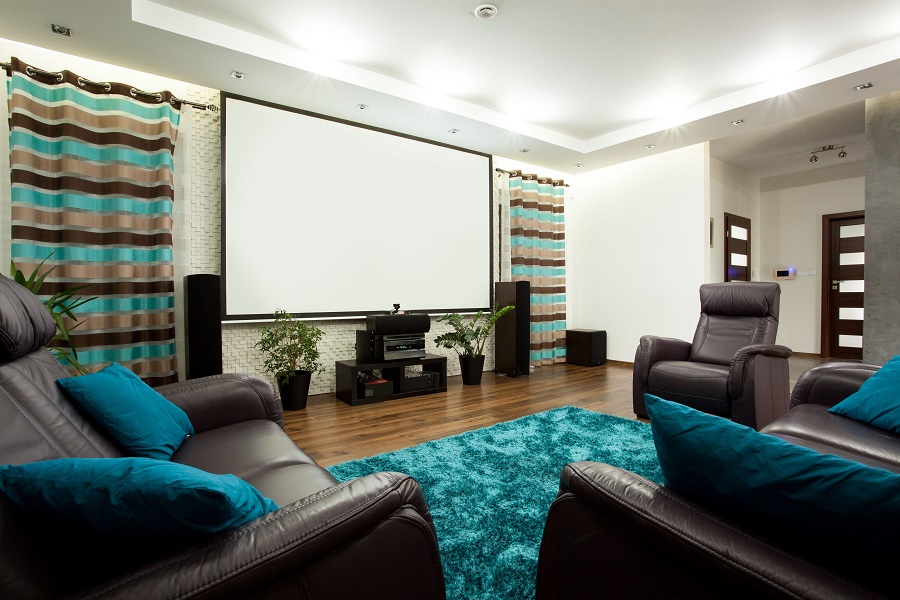 Sometimes adding a surround sound system to your Charlotte-area home is a fairly simple project. But what if the room you want to watch movies in is oddly shaped or is made of materials that complicate the installation? We want to assure you that when you work with a professional audio/video installer you can overcome any challenges. Read this helpful guide for more information.
SEE ALSO: Take Your Gaming to the Next Level with Media Room Design
Oddly Shaped Ceilings
Positioning two or four speakers in the ceiling is key to creating 3D audio where you can hear the sound coming from above you. If a movie includes a plane flying overhead or other sounds that come from above, you'll need them. But what if your ceiling is a dome, caved, or made of a difficult material like brick or glass? In cases where the speakers can't be installed in the walls or mounted on the ceiling, you can use upward firing speakers, which play the soundtrack directly upward so the sound reflects off the ceiling and back down towards you. Keep in mind that these work best when the ceiling is made of a hard and smooth surface.
Open Spaces
It's always best to reserve a closed room for a home theater setup. But that isn't always an option. If you have to setup your surround sound in an open space, we recommend that you place speakers in locations that won't be easily messed with. You can place two loudspeakers behind your sofa or recliners (one on each side), two speakers on either side of the TV, and a subwoofer in front of you. To keep the speakers out of way, we recommend housing them in custom AV furniture. We have a number of manufacturers we can recommend such as Salamander. Another factor to consider is choosing a wireless system over a wired one that way you won't have a bunch of cords in the middle of your living room.
Limited Space
If the room is small, you'll definitely want to install the speakers in the walls to save space. We have invisible speakers that remain completely hidden and in-wall speakers where you can just see the grill on the wall. You can also paint over the grills of the speakers to match the wall color and help blend the technology into the interior design.
Whatever challenge or limitation you may face, The Integrated Home has a solution. We work with contractors, interior designers, and other professionals to meet any need you have for your space. Contact us today with your home theater issues and we'll help provide the perfect solution.