Brands
The Leaders of Design & Innovation
Meet the companies that we call partners for our Charlotte, NC projects. They form the foundation of our product specifications thanks in part to their best-in-class performance, breadth of product offering and ongoing technological innovation.
Sonos envelops every space of your home with brilliant audio, creating a soundscape you can easily customize to play what you want, where you want. With smart, wireless speakers for your music and cinema, Sonos expands crystal-clear audio anywhere you desire and connects to all your favorite media sources for easy, one-tap listening. Seamlessly command your speakers with voice activation or from your smart device of choice and rediscover your favorite music with a sound system that lets you listen your way.
Experience personalized control for your unique lifestyle with the power of Salt Lake City-based Control4. Connect virtually any device in your home or business to work together, and command them all with customized one-touch controls and scenes from your system remote or smart device of choice. Whether you're home or away, Control4 gives you the power to command and monitor your estate or business in one platform. The transformative benefits of a smart connected home and business with Control4 delivers convenience, peace of mind and an efficient environment that's comfortable and safe.
Learn More
Inventors of the solid-state dimmer in 1959 and now holders of 2,700 worldwide patents, Lutron has expanded their product offering to more than 15,000 products. Lutron makes it possible to craft the perfect atmosphere at home or in the workplace to complement your day-to-night activities with personalized lighting and shading control for enhanced comfort and productivity. Recall your favorite settings from a master keypad or remote to easily transform your environment with just a tap or set your lights and shades to adjust on their own so you can focus on the activity at hand. From the workplace to the home, Lutron provides sophisticated solutions for custom lighting and shading that operate seamlessly at your command.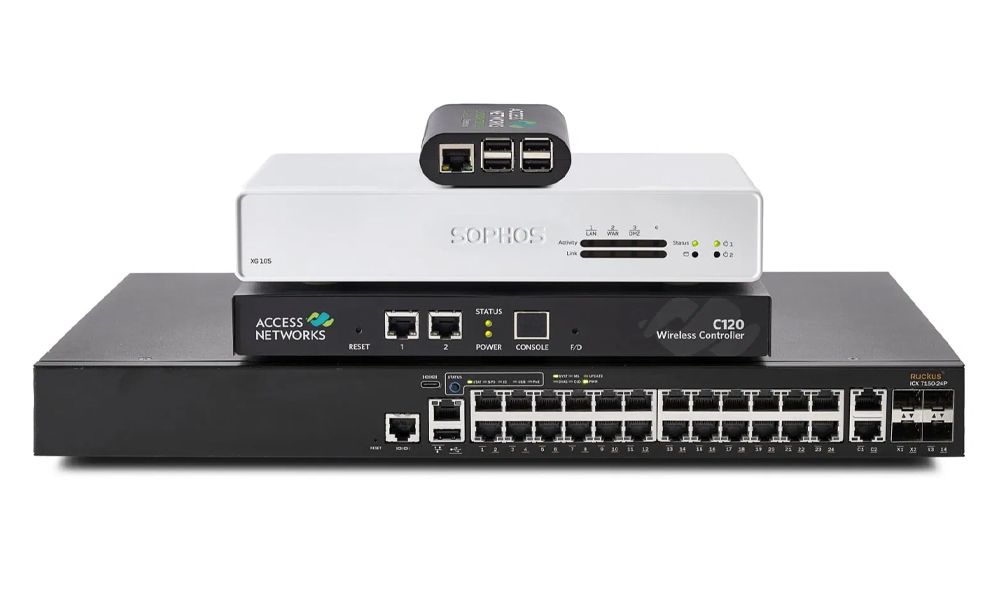 Access Networks aims to deliver the finest residential network solutions that lead to an exceptional client experience while maintaining the highest level of professionalism, integrity and innovation. Our goal is to provide expert knowledge and enhanced efficiency, delivering reliable smart home solutions today, tomorrow and beyond. We strive to be the connection point between manufacturers, integrators and homeowners. We will continue to grow and evolve our offering; providing integrators and homeowners alike peace of mind as we bring the most sophisticated networking technologies to the intelligent home of tomorrow.
Over the last 40 years, Audio Control has focused on "making good sound great" through their lines of amplifiers, receivers and preamplifiers. Unlike some other audiophile brands on the market, Audio Control does not just focus on amped-up specs. Their goal is to improve customers' lives by delivered stunning audio the lets them recreate a concert hall or theater environment in their own home. As the heart of your home theater, their receivers deliver fully immersive sound as well as 4K video resolution. Knowing how important it is to get high-performance audio beyond a few dedicated rooms, they have a full line of multi-zone amplifiers that deliver excellence throughout your house. Even outdoor applications aren't out of the question with their powerful line of 70-volt amplifiers.
In 1998, Michael Murphy began CinemaTech's journey in Texas with a single purpose: creating the perfect home theater seating. This was the beginning of the luxury home cinema seating industry, and the company expanded its services to home theater design in 2003. Having acquired Acoustic Room Systems in 2005, the company now offers dedicated seating and acoustics along with its design services. Their award-winning seating solutions include incliners and loungers featuring the most beautiful leather and acoustic fabrics. Meanwhile, acoustic treatments manage absorption and reflection to create a dream sonic environment for movie lovers and audiophiles alike without affecting the room's decor. Each CinemaTech project strives to strike the perfect balance between aesthetics and performance while offering easy-to-use turnkey solutions for its clients.
Coastal Source landscape lighting products are built with integrity. More than 50 years of hands-on industry experience gave us what we needed to take on the entire landscape lighting market. The real world and laboratory testing gave us a solid understanding of the challenges we had to overcome. "A solution that is defying the elements." By taking a systematic approach to landscape lighting we've been able to anticipate and overcome failures. Coastal Source has designed and engineered the entire system to be better… from the transformer to the last light bulb. Coastal Source offers a complete solution. A solution that defies the elements.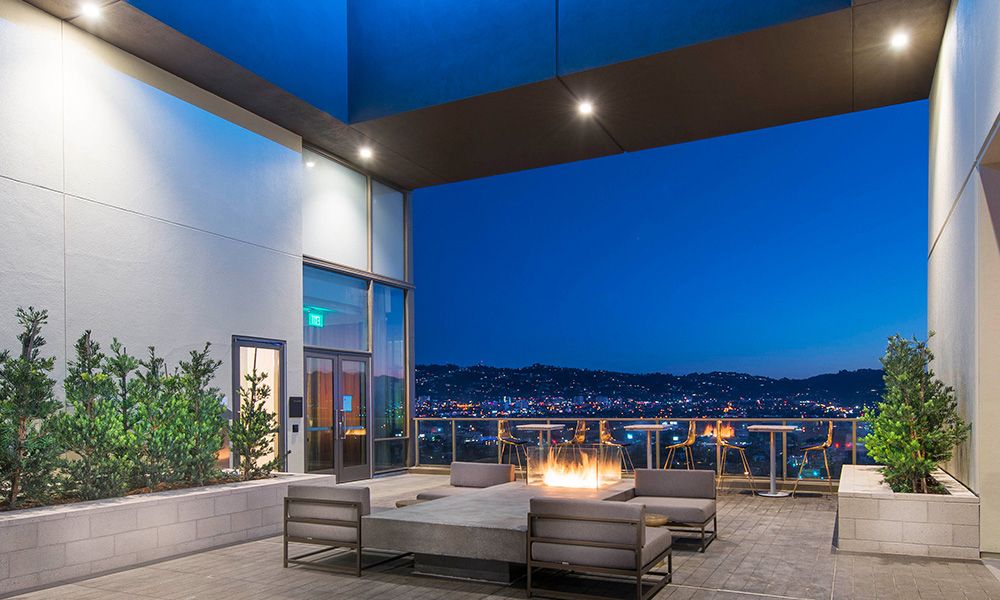 DMF is a nationally renowned company famous for designing and manufacturing easy-to-use downlighting solutions for residential and commercial environments. 30 years after it was founded out of a garage in southern California, it now boasts a national chain of warehouses and suppliers to deliver stellar LED lighting solutions wherever they're needed. Having the right light quality is vital to creating successful environments for work, relaxation and play. Easy-to-use OneFrame, SquareFrame and DCD modular mounting systems allow for varied designs featuring recessed, surface mount, wall mount, cylinder and pendant fixtures. Enjoy the perfect indoor and outdoor lighting for any occasion with fixtures ranging from 750 to 9000 lumens and warm dim technology that lets you enjoy the entire light spectrum of cool and warm hues.
Leverage Epson's long history of electronic innovation with their line of commercial and home cinema projectors, which deliver striking, dynamic quality for projection made perfect. Their wide range of projectors is ideal for home theater enthusiasts who enjoy watching sports, TV shows or movies. With images up to 300", you can relish the big-screen experience in the comfort of home. Meanwhile, 4K video resolution and advanced color processing offer unprecedented detail ideal for both residential and commercial settings. With ultra-bright models available, you can enjoy dynamic images, even with ambient lighting in the room. Dealing with a small space in your home or office? Explore Epson's high-performance, short-throw projectors that can sit just a few feet from the screen.
Future Automation has manufactured exceptional television lifts and mounts for the Residential, Marine, Commercial, Hospitality and Outdoor applications since 1998, a customer first business that prides itself on its creativity, passion and excellence. Future Automation are a design led mechanical engineering company that is known for providing the highest quality products across a wide range of applications and industries, our primary focus is supplying technology integrators with solutions to move and conceal televisions, projectors, appliances and other similar equipment for functional and aesthetic purposes.
Luxury in-home golf simulators from Golfzon let you embrace the game like never before. Finding the time to hit the links for hours can be difficult. The Golfzon simulators recreate the game in the comfort of your home so you can get in a few practice swings, try out a few holes or play a whole round. Optimize your swing with multiple multi-surface hitting mats that recreate fairways, bunkers and roughs. Immerse yourself in famous golf courses through an ultra-bright projector and high-end wall-length screen. With over 250 patents and half of its staff devoted to research and development, Golfzon is always improving its software to deliver the most precise simulated golf experience. While other companies offer golf simulators, Golfzon is the only one that will become a golfer's lifetime partner.
Developing innovative, high-quality products for its customers is Hunter Douglas' primary mission. Founded in 1946 after creating the first aluminum blind, Hunter Douglas has revolutionized the window coverings industry over the past five decades. Over the years, Hunter Douglas has refused to sacrifice style for function. Designed with aesthetics in mind, their window coverings also provide lighting control, insulation, protection from UV rays and energy efficiency. Shades are available in sheer, cellular honeycomb, roman, roller and woven wood varieties. If you want to move away from traditional roller shades, Hunter Douglas also offers shutters, vertical blinds, wood blinds, metal blinds and drapes. Scheduling your motorized window treatments to open at sunrise or close midday to protect your home from overheating has never been easier thanks to PowerView Automation, Hunter Douglas' powerful programmable operating system that also integrates beautifully with many smart-home systems.
Underlying all of Integra's high-end products are the two pinnacles that define them: passion and excellence. Committed to delivering flawless audio through expert design and construction, Integra learned early on how vital installation is to the end result as well. Not only are Integra products ideal for traditional 2-channel audio, but they stand out for their smooth integration into home theater and multi-zone systems as well. Realizing that ease-of-use and installation is just as vital as the components' audio quality, all Integra products are designed to fit seamlessly into custom AV projects. Explicitly geared for personalized applications, Integra partners with AV specialists to deliver unprecedented quality for audiophiles and movie lovers through its line of receivers, amplifiers, soundbars and more.
Established in 1999 by audio engineers and craftsmen, James Loudspeaker takes pride in its commitment to innovation when designing high-performance audio solutions. James Loudspeaker offers lines for luxury homes, marine applications and enterprising businesses alike. Through cutting-edge technology and flawless designs, their products provide unprecedented sonic performance in both indoor and outdoor environments. James Loudspeaker solutions emphasize aesthetics to deliver powerful sound while having a minimal presence in the space. Loudspeakers from all lines include ultra-slim driver technology, adjustable frequency distribution and quad-tweeter arrays. All James Loudspeaker customers receive personal support to ensure a solution that satisfies all of their needs and preferences. Choose from a wide range of in-wall, in-ceiling, under eave, landscape, bookshelf and loudspeaker models.
Speak to your smart home like you would a family member or friend with Josh, a sophisticated voice-controlled automation system created by Denver-based artificial intelligence company Josh.ai. Josh uses proprietary Natural Language Processing technology so you can command your home in whatever way feels most comfortable. Josh will learn your daily patterns and take note of your preferences to make your smart home experience more effortless than ever. Since its founding in 2015, Josh.ai has put your privacy and protection first, promising never to sell your data and giving you full control over how much information your home collects. Use Josh with best-in-class smart home products like Control4, Lutron, Nest, Sony and more, and control your whole home from anywhere in the world with your smartphone.
With over ten thousand independent and major studio motion picture films, TV series, concerts and documentaries available, Kaleidescape serves homeowners the most pristine menu of 4K Ultra HD entertainment to be enjoyed from the comfort of their couches. Kaleidescape combines movie players and servers with online selection and delivery of the highest quality media, taking the top spot for must-have content sources that power your home theater or media room. Browse, select and purchase any content you desire, and upload your physical media to be stored digitally with the rest of your entertainment. The intuitive interface is designed for graceful navigation of your selections and settings so you never have to take your eyes off the screen.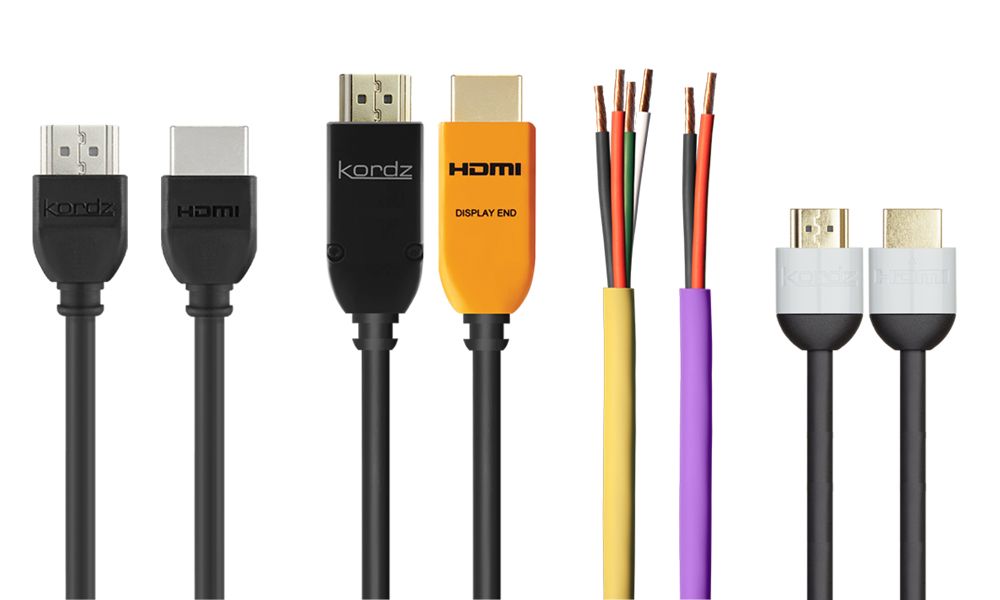 Kordz is a long-standing innovator and manufacturer of HDMI and other audio-visual cables. Kordz' extensive experience in design, engineering and manufacturing is the foundation to building products with our long-established principles. These principles of design and engineering are to create products that are robust, offer high quality sound and picture, high-bandwidth, tight bend radius, shallow mounting depth and reliability. Kordz utilises research and development facilities in both Australia and Taiwan, plus the dedication and experience of its people, to engineer and build robust and quality connectivity solutions.
From award-winning OLED TVs to AI-based entertainment platforms, LG caters to all your home entertainment needs. Enjoy perfect blacks and infinite details with smart TVs containing over 8.3 million pixels for the ultimate clarity and dynamism. Don't worry about ruining your décor with ultra-thin designs which blend in seamlessly with their environments. Embrace a more cinematic experience with short-throw projectors that beautifully broadcast 120-inch images even in ambient light. Add LG soundbars and Blu-ray players to outfit your home cinema with superior quality from top to bottom. LG's webOS platform lets you quickly access your favorite streaming services including Netflix, Hulu and Amazon and also provides AI-based entertainment recommendations for your family to enjoy. You can also use AirPlay 2 to stream movies, TV or music directly from your iOS device to your LG TV of choice.
Since 1977, we have been crafting innovative, elegant, high performance audio solutions. From our flagship DSP loudspeakers with integrated amplification, to our discreet and powerful range of in-wall loudspeakers, we deliver easy to install, high resolution audio systems for home cinemas and whole home solutions. The renowned Meridian experience is now available in a variety of environments thanks to our collaborative partnerships with industry leaders including; Jaguar Land Rover, LG Consumer Electronics and British Airways, ultimately transforming the way people experience sound, wherever they may be.
For over 40 years, Monitor Audio has specialized in hi-fi loudspeaker designs for any application. The British company delivers sonically superior solutions for surround sound, stereo systems and discrete architectural installations. Monitor Audio loudspeakers rely on their trademark metal dome drivers to offer more life-like sound than their plastic or paper counterparts. Experience high-quality sound in indoor and outdoor environments without sacrificing strength or depth. Every music lover will find their perfect match through their full range of standing loudspeakers, bookshelf speakers, soundbars and surround sound speakers. Limit the impact on your décor with their elegant SoundFrame solution which masks your speakers behind beautiful works of art. Integrate sleek amplifiers that elevate the power and style of your stereo or surround sound systems.
At Salamander Designs, innovation and specialization take center stage when designing AV furniture. Not only does Salamander Designs specialize in AV cabinets, but they also offer racks, stands and home theater seating. All units are built-to-order in the United States, whether working with a pre-designed model or building from scratch. Explore a wide range of styles, materials, sizes and finishes to build the ideal solution for your home. A design configurator on their website guides you through the process based on the technology you wish to include. Beyond the overall aesthetics, each piece of furniture enhances the performance of your electronics while facilitating their maintenance. Leveraging precise aluminum frames and natural materials, Salamander Designs delivers products built to last.
Elevate your expectations of home entertainment with Samsung's most innovative and advanced range of televisions that offer an impeccable visual and auditory experience for film and gaming enthusiasts alike. Samsung's proprietary Quantum Processor is the mastermind behind their unrivaled QLED 4K and 8K TVs that display a depth of detail, contrast and realism never seen before. Even when not in use, Samsung displays add beauty to your home by transforming into framed artwork or blending into the decorative pattern on your wall, elevating your space while turned on and off.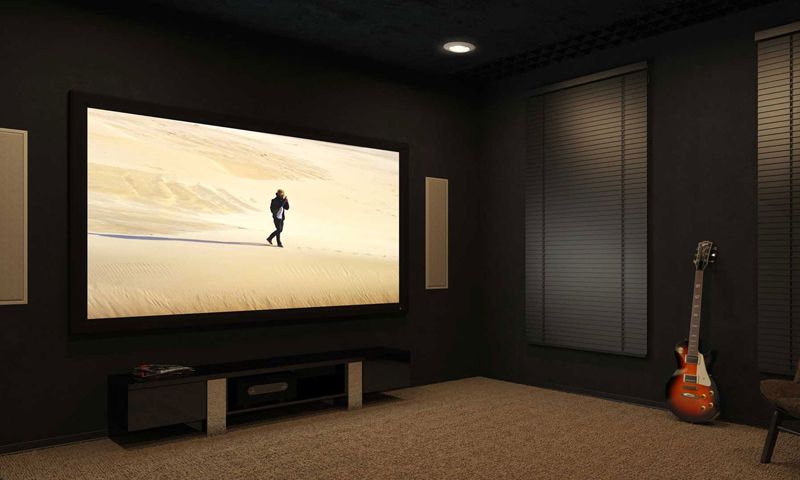 Unleash the full potential of your home theater with Screen Innovation's masterful indoor and outdoor screen models. Revolutionize your viewing experience with ambient light rejecting screens so you don't have to be kept in the dark to watch movies. Embrace the big screen experience in a stylish environment with their sleek, zero edge models that fit seamlessly in any space. Now you can even take your screen on the go with the Solo line model with a portable cassette and a 2-year battery life. Tiles and rear projection screens, meanwhile, allow or unique and engaging digital signage solutions for businesses. Recently, Screen Innovations has also released motorized shades for indoor and outdoor use in a wide range of models and colors.
Revel in the perfect harmony of design and technology with Séura's award-winning line of smart mirrors and TV solutions for your indoor and outdoor spaces. Improve your morning routine with Séura SMART technology that incorporates seamlessly into a custom vanity for total home control at the touch of your bathroom mirror. Elevate your living room with intelligent 4K TV displays that disguise as beautifully framed mirrors when turned off. And see yourself in the best possible light with elegantly lighted mirrors that illuminate your bathrooms without the need for cluttered sconces and light fixtures. Certified as a Woman-owned Business Enterprise and with all products manufactured in Green Bay, Wisconsin, all Séura products get to wear the badge of Made in the USA by American craftsman.
Established in the early 1980's, Southern California-based Dana Innovations is the parent company of Sonance, iPort and TRUFIG. Sonance specializes in designing high-quality audio systems for luxury homes and businesses that work in virtually any environment, from in-wall and in-ceiling to expansive outdoor landscapes and more. Enjoy sightless surround sound that immerses you into your favorite blockbuster film or musical soundtrack with discreet speaker solutions that complement any indoor décor or hide evenly throughout your gardens and foliage. With Sonance, delight in immaculate sound with minimal visual impact thanks to the beautiful blending of technology and aesthetics. Further expanding on its commitment to luxury sound, Sonance acquired James Loudspeaker in 2019. The acquisition allows Sonance to leverage James Loudspeaker's innovations in the areas of custom and architectural audio to create high-performance, bespoke solutions for its clients.
Sony takes the home entertainment experience to an entirely new level with our premium line of ES Receivers, ES Home Theater projectors, 4K HDR Televisions and ES and AR Speakers. They all work together beautifully to give you and your clients an integrated experience as captivating as the entertainment itself. To Sony engineers, the challenge was to recreate the experience of hearing music performed in a live venue, to find a way to express the emotions of its creator without adding artificial eccentricities. It was to make the listener feel the music, just as if it were being played, with natural dynamism and airiness. And that's precisely what we have achieved with the new Sony ES loudspeakers, elegantly and simply.
SunBriteTV was founded in 2004 for the explicit purpose of creating displays that deliver the ultimate brightness and image quality when hit by direct sunlight. Housed within a durable aluminum case, SunBriteTV displays can withstand extreme temperatures, UV rays, dirt and rain. Although huge in the residential market, SunBriteTVs are so reliable that they are used in many professional stadiums including Yankee Stadium and Wrigley Field. Their TV lines vary depending on whether you want to watch in full shade, partial sun and full sun. Each model is 2-3 times brighter than indoor displays to make up for ambient lighting. Models for full shade and partial sun are also available in 4K UHD video resolution. With sizes ranging from 32" to 75", there's a solution for any home entertainment system. The California-based company is the only consumer brand that manufactures all its televisions in the United States.
Home technology professionals have chosen SurgeX as their go-to company for surge protection technology for over 20 years. Unexpected surges pose a significant risk for your technology from causing lengthy reboots to destroying your equipment. Harmful side effects from surges also create ground contamination and further degrade your components. SurgeX's innovative energy management technologies address each of these problems directly to optimize your system performance and reliability. Employing inrush current elimination, SurgeX removes all surge energy without any of the dangerous side effects. Catastrophic over/under voltage shutdown manages power variations before they affect any equipment. EMI/RFI impedance tolerance eliminates most ordinary and common mode noise for optimal AV performance. Employ remote management tools that oversee your system and immediately flag issues.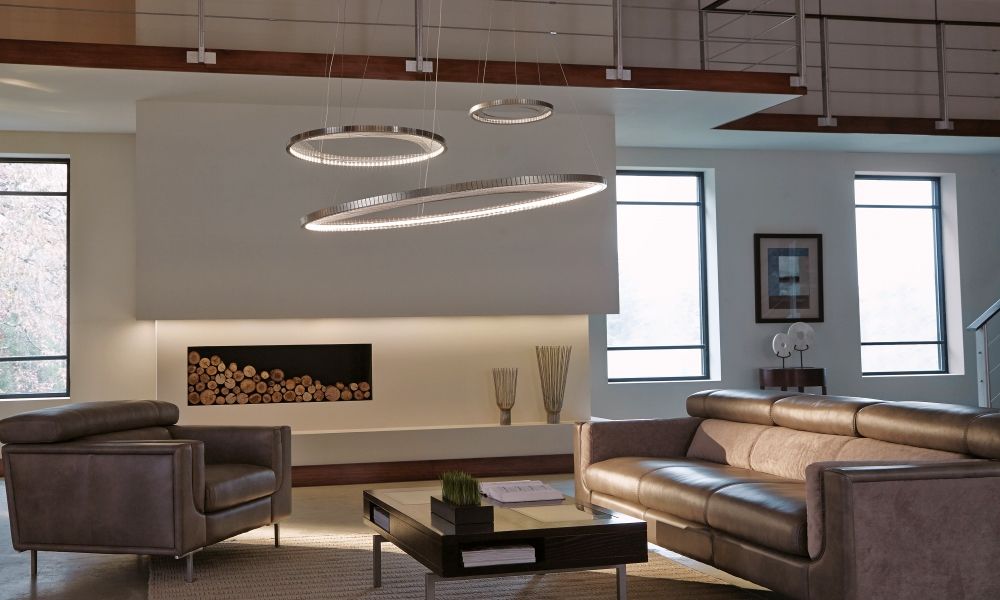 As an industry leader in low-voltage lighting systems and contemporary decorative fixtures, Tech Lighting roots its business in innovation, unique design and unmatched quality across a wide range of solutions. Over the past three decades, Tech Lighting has expanded its portfolio to include chandeliers, pendants, ceiling, under-cabinet and recessed fixtures. For outdoor applications, Tech Lighting offers bollards, ceiling lights, light columns, landscape lights, pendant lights, wall sconces and other popular landscape models. Architectural components have become a huge part of the business in recent years, with Tech Lighting's various downlights offering critically specified light for the ideal illumination in any space. The Illinois-based company delivers the same rigorous approach to testing and quality control as they do to their customer service and technical assistance.
Start Your Journey to Smarter Living
Connect with us to learn more about how these industry-leading brands work together to create your dream smart home or business.