Blend Smart Technology and Design in Your Home Theater Setup
Check Out These Hidden Features for Your Cinema Design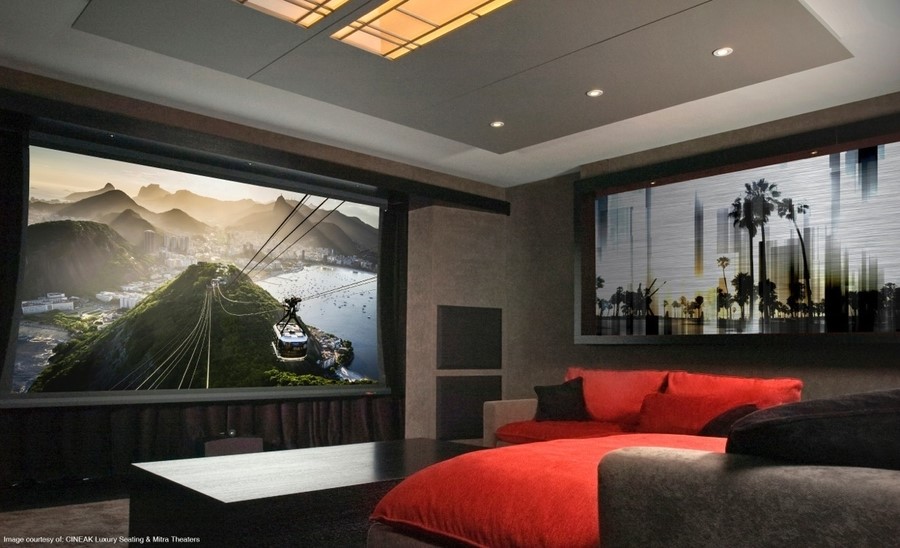 Imagine that while you watch the latest release in a blockbuster film franchise or get set up on a Saturday to binge a new TV show and you can immerse yourself entirely in the media.
With an upgraded home theater design in your Lake Norman, NC space, this reality could be yours. Hidden smart technology and features can help merge your theater's style and functionality seamlessly.
Keep reading below to find out how you can create the ultimate viewing experience in your home cinema.
SEE ALSO: 3 MUST-HAVE UPGRADES FOR YOUR HOME THEATER SYSTEM
Hidden 4K Screens and Projector
The number one aspect of watching a film or show is the what equipment you're watching it on. No matter what, a 4K Ultra HD screen is a must – once you see the crystal-clear and vivid image this screen quality provides, there's no going back.
But should you pick a projector or flat-screen – and which is the best to blend in with your décor? The great news is that both can hide well and integrate nicely into your theater design.
Pressing a button on your smart device of choice lets you lower your projector and screen or flat-screen easily. There's no need to plan ahead or figure out how you can reveal the AV equipment before you watch a movie.
In-ceiling projectors and roll-down screens make it easy to conceal your screens when not in use. This is a great feature if you have your theater system in a multi-purpose room.
Flat-screens can hide in many other ways too. One idea is to put a wall panel over the screen that can simply slide over to cover it when you're not using it. The panel can have artwork, pictures, or anything you wish to add to your design.
Mirror screens are ideal if you want to make a room feel bigger when you're not watching your media. When the screen is turned off, a mirror will take its place – adding elegance to your space.
High-End Speakers that Blend In
Once you figure out your screen setup, now comes your theater system's audio. How can you achieve flawless sound quality without sacrificing your room's design and aesthetics?
Luckily, there are speakers of all types – from ones that elevate your specific style and design, to others that are completely invisible.
If your system is set up in a more traditional theater environment, then standard, standing loudspeakers might be for you. These offer incredible audio and have a sophisticated look to them.
They can make your already theatrical design look even more seamless and stylish. But while they have impeccable sound, they can be a bit obtrusive. So it depends on how visible you want your speakers.
An in-between option is bookshelf or cabinet speakers. These speakers can sit on top of furniture or on shelves, and they mesh wonderfully with surrounding décor.
But for speakers that are truly invisible, in-ceiling or in-wall ones are the way to go. You can control these with your smart device or stylish wall keypad – and they are completely unnoticeable except for the high-performance audio they bring to the room.
You can install these throughout the room, overhead, and around all sides to create an excellent surround sound setup. You'll transform your media-watching experience without hindering your theater design in the slightest.
How visible do you want your audio video equipment in your home theater design and setup? The choice is up to you.
To learn more about these smart theater solutions and technologies, give us a call or fill out our online form to schedule a no-obligation consultation with our team. We'd love to hear from you.