A Stunning Media Room Installation for Both Indoors & Outdoors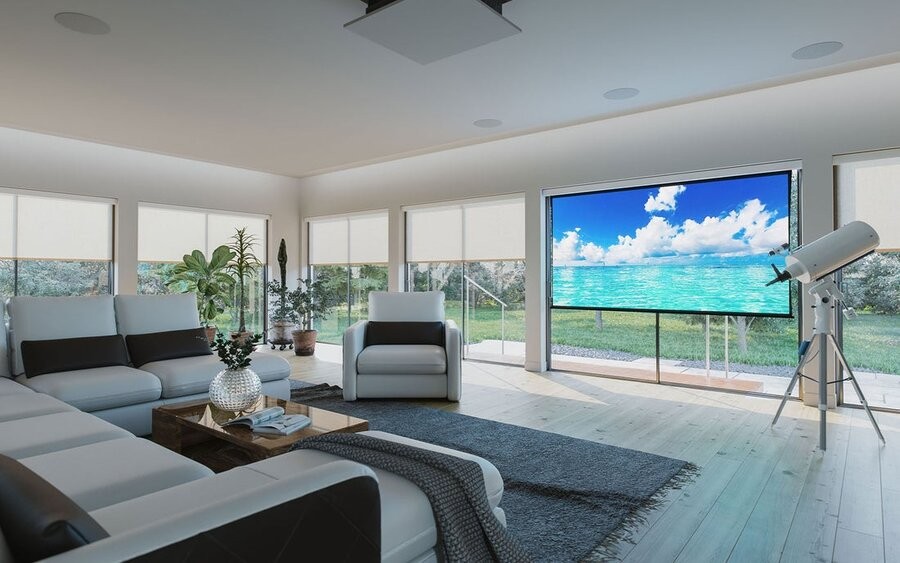 Screen Innovations Delivers a Screen to Transform Any Living Space
An immersive media room offers a perfectly curated oasis for you and your family to escape and experience your favorite entertainment in an ideal setting. There are many reasons to go with a media room installation over a home theater setup - one of them is the former's flexibility. You can create a media room in any living space across your Charlotte, NC, home - even outdoors!
Of course, to make these multi-purpose media rooms a reality, you need the right audiovisual solutions to create the ultimate viewing experience, whether inside or outside. With the Solo 3 projection screen from Screen Innovations, your media room can become the place to be all year long! Keep reading below to find out more.
SEE ALSO: How Can Your High-End Audio Shape Your Home Entertainment?
The Screen Innovations Solo 3
Top-Tier Features
Looming large in any given space, the Solo 3 projection screen draws the eye immediately! Its vivid image and clean design give your media room a finished look, appearing brightly lit in even ambient or natural lighting. With its twin-view capability, you can display media on both sides of the screen, depending on your media room or space's setup. The options are endless with this screen.
Indoor or Outdoor Media Room Installation
The Solo 3 makes creating an outdoor media room space a breeze. Offered in both a wired and wireless option, the Solo 3 lets you customize what you need for your specific setup! You can choose a lithium battery-powered cassette for your screen outdoors, avoiding the hassles of wiring in an outdoor setting. The cassette is manually rechargeable, or opt for a solar-powered one for a greener, Earth-friendly option.
A Professional Installation Is a Must
When dealing with both indoor and outdoor installations of any kind, you don't want to approach the projects on your own. DIY solutions can only get you so far - and even wireless screens need a professional's touch, attention to detail, and experience to ensure the installation is seamless.
Our team of integrators at The Integrated Home aims to make your media room installation and setup look and feel effortless by taking care of all the technical aspects. From start to finish, we'll cater your media room to meet your unique needs - whether it's inside or outdoors.
Want to learn more about experiencing a unique media room installation with a stunning screen from Screen Innovations? Feel free to give our team at The Integrated Home a call or fill out our online contact form to schedule a no-obligation consultation with us. We look forward to hearing from you!